We need to realize that a 10 year long problem won't always be solved in 10 minutes. Depression, addiction, forgiveness or whatever the concern may be, we can not always assume that the healing power of the Atonement of Jesus Christ will mend our wounds in a matter of seconds. Preach My Gospel: A Guide to Missionary Service states "

Patience is the capacity to endure delay, trouble, opposition, or suffering without becoming angry, frustrated, or anxious. It is the ability to do God's will and accept His timing. When you are patient, you hold up under pressure and are able to face adversity calmly and hopefully. Patience is related to hope and faith—you must wait for the Lord's promised blessings to be fulfilled."
Just as the cut take hours to heal and the surgery takes days to recover, our spiritual healing will come in the Lord's time. That's why we can't get discouraged if we don't seem perfect after a minuter or after a prayer. That's why when the going gets tough we push on and when the healing starts to sting we must fight through. Now because of the Savior we can and will be healed. The prophet Isaiah assured of this: "He was wounded for our transgressions, he was bruised for our iniquities.. and with his stripes we are healed." (Isaiah 53:5)
Just as the scripture reads in Ecclesiastes 3:1-2:
"
To every
thing there is
a
season, and a
time
to every purpose under the heaven:
A
time
to be born, and a time to
die; a time to plant, and a time to pluck up
that which is
planted;"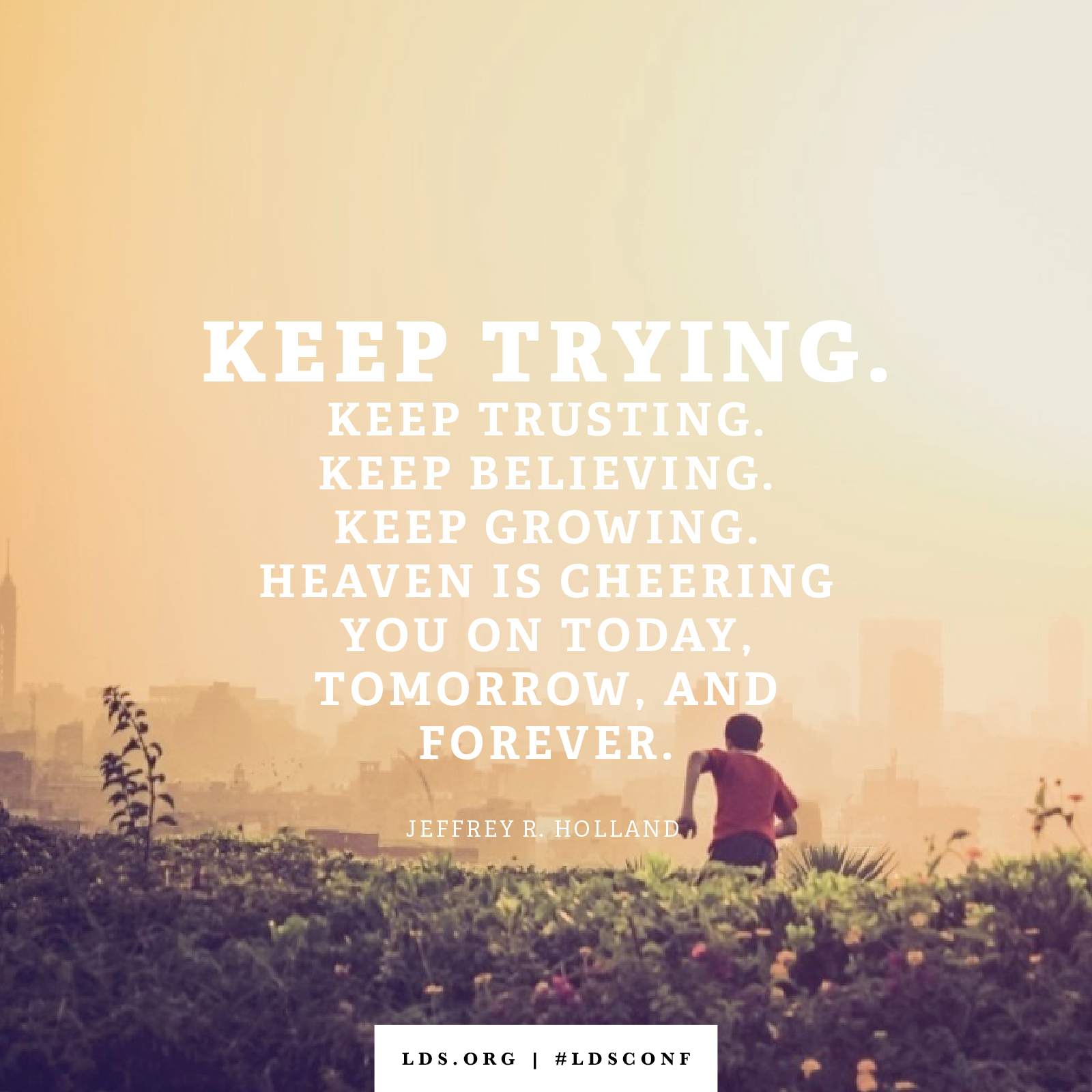 The hymn "Be Still My Soul" brings me peace and inspiration, it reads: "

Be still, my soul: The Lord is on thy side;
With patience bear thy cross of grief or pain." It is manifested in my life that as I continuously follow the Savior, as I take time to ponder and pray, as I come to understand and feel the gospel and how it changes me that I gain a testimony and come to truly use the enabling power of the Atonement in my life. It is my personal testimony that each of us can do it ourselves, we can do it, we can come closer to the Savior, we can change! We all need to remember to "
Take time to be holy, [because] the world rushes on.
I invite each of you to share an encouraging quote or scripture with your friends, with those who are struggling or suffering or with those who have the desire to learn how they can use it. My invitation is also that you may access www.mormon.org and come to know more about my beliefs, I invite you to explore the tools like "Chat with missionaries" and also request your own free copy of the Book of Mormon and Holy Bible.
*Inspired in a post by Elder Ben Miller